FLATED Rides with Adriene Levknecht
FLATED Family meet Adriene Levknecht! She is a professional kayaker and wildland paramedic who is passionate about safety, adventure and giving back. She is our first FLATED ambassador, and we are excited to have her on board.
Hi Adriene! Where are you currently?
"Working on a wildfire in Gold Beach, Oregon but I am based out of White Salmon Washington."
What are you driving these days?
"A 2022 Toyota Tacoma TRD full cab, long bed."
You're a champion kayaker and a wilderness firefighter paramedic. Do you have spare time?
"Nope. Just a couple weeks ago I did some work for Paddle Tribal waters which gets indigenous kids into kayaking. I drove over 1300 miles in four days of work. Then, packed up my truck and drove from White Salmon, WA to Truckee, CA to try to get some California whitewater goods, only to get called to a fire in Oregon which I had to respond to the next day. I don't stay still very long but when I do, it feels so good!!"
Your IG handle is Balancing Adriene. Seems like you balance a lot in your life! Whats your biggest tip for people balancing a career and an athletic lifestyle?
"Never say you're "too busy to workout." I find time in my day to always take care of my body, even if its only 15 minutes and 100 pushups. There is no way you dont have 15 minutes to spare to love yourself a little more."
How does what you learned in your career help to make you a better kayaker?
"I learned how to stay calm in high stress situations pretty quickly and working with what you have, which sometimes is almost nothing. Also, how to sleep in the cab of a truck super well."
How did you get into kayaking?
"My parents got me into paddling when I was 5 in a sea kayak, I was so cute back then. I was 11 when my dad took me to the Nantahala Outdoor Center and I started whitewater at their kids camp. I got super into it and I guess it's all down hill from there."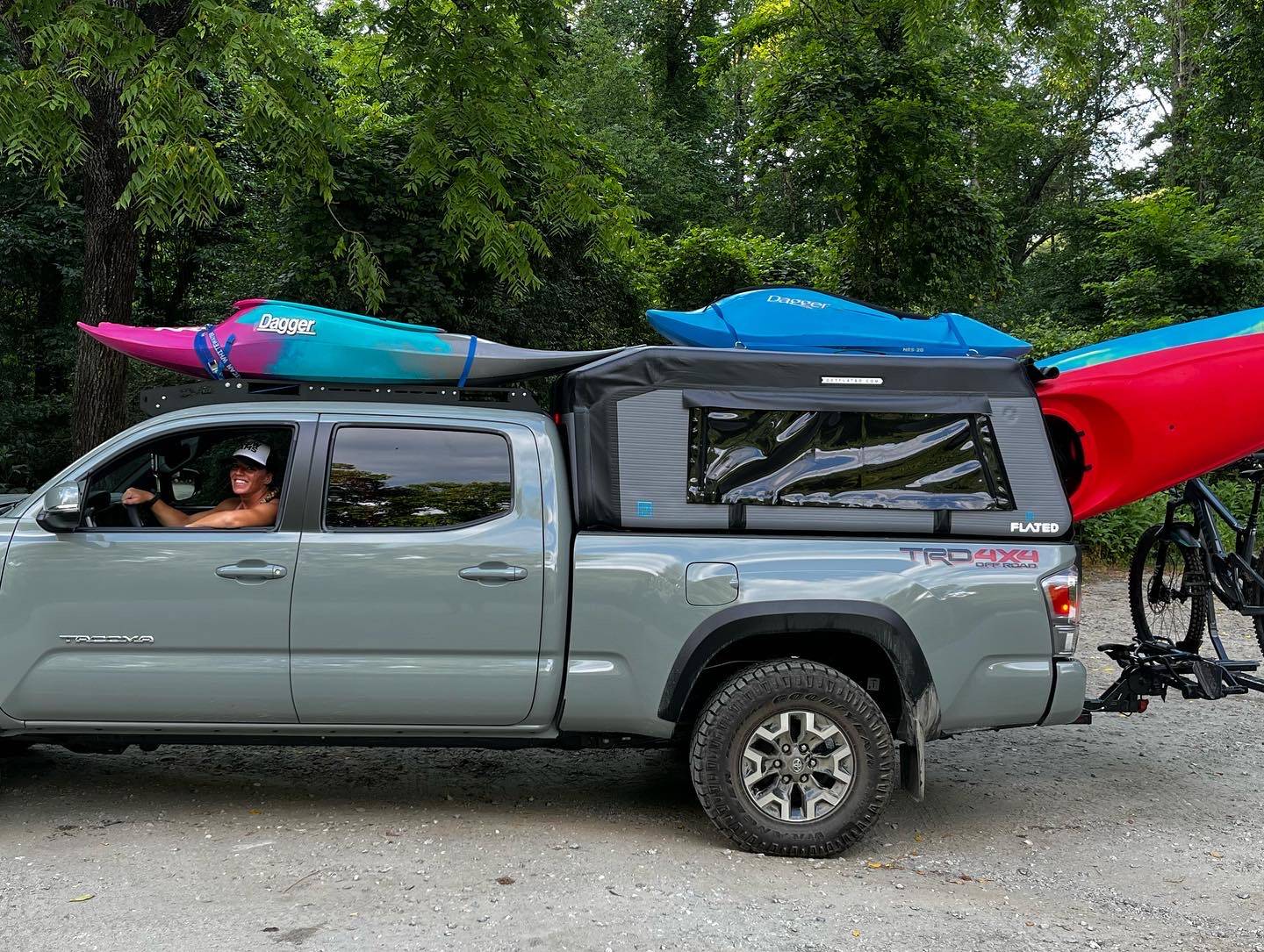 How many nights do you sleep in your topper a year?
"As many as I can. Probably over 30-40. I belong in the wilderness."
Do you get asked about your topper often?
"I do! I love it when people ask me about it at the gas stations. Most of them cant believe its inflatable and then I climb on top of it and jump around and they all just have their mouths open."
What do you say when people ask about it?
Its the best thing since sliced bread. It is light, easily removable, and folds into a bag when it's not being used. 
What is your next trip?
"Who knows?! I demobilize off of this fire on August 3rd so I will probably go to California for a smash and grab of some high Sierra paddling and then head to BC for downhill mountain biking at Whistler and kayaking at a tidal wave called Skookumchuck Narrows."
How many Rivers have you taken the topper down?
"HAHA!!! Just one so far, the Klickitat on the 4th of July. But, we are training to take it down the lower White Salmon at some point this summer."
We want to take this opportunity to remind you that Adriene is a professional, so yes the Topper floats, but is not built or meant to be a flotation device.