Air-Deck™
the Patent Pending Air-Deck inflates, deflates, and stores with ease to take it from a large stable raised-deck to small compact backpack for easier storage.
---
Within minutes your vehicle has a whole new attitude. Used in conjunction with the FLATED® Air-Topper™, your truck is now a cozy crash pad. Sprinters and vans are quickly revamped into modifiable overnight haulers. Regardless of where it goes, you'll rest easy dreaming of new adventures to take it on.
The Air-Deck™ is an innovative, raised platform that fits in trucks, sprinters, SUV's, RV's, and vans of all makes and sizes. Like all FLATED® products, the Air-Deck™ inflates, deflates, and rolls up into a duffle with ease to transform from usable to storable. Load up the Large with blankets and pillows for the fam or snuggle into your sleeping bag on the personal-sized Cot. All while keeping your valuables stowed below you.
Includes carry bag with shoulder straps, hand pump, and patch kit
Has four tie-down points with Straps to secure in the back of vehicle
Rigid Inflatable Drop-Stitch Platform that can support over 500LBS
Two-pockets on the tail-gate end for your belongings
Two stash pockets on the side that can easily be accessed while camping
Two access indents on the sides so you can easily reach-through and secure the front end to the vehicle
From truck, van and SUV, It can fit in many vehicles, but please see size chart to confirm
Lightweight. At only ?? the Airdeck is designed to be tossed into action quickly.
Storable. Roll it up and put in a closet or cabinet. Ready to roll? Inflate. Go.
Durable Construction Details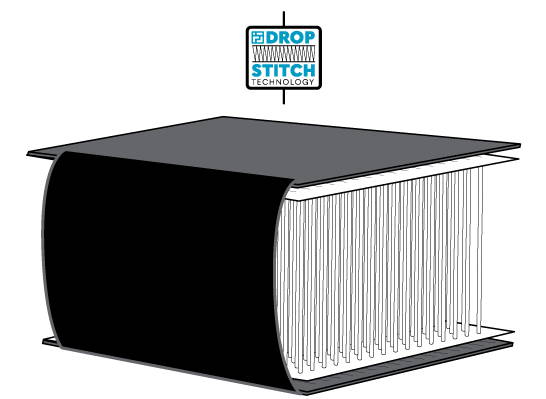 All FLATED® products are made with durable Drop-Stitch fabric which allows an inflatable product to maintain its shape when it is inflated to high pressure. Using tens of thousands tough polyester threads, Drop-Stitch fabric lets FLATED® build inflatables with flat surfaces that can be inflated to rock-hard rigidity. You get hard-shell performance along with the easy transportation and storage of an inflatable. Sidewalls use PVC layers specifically manufactured for superior air holding. Unlike typical PVC tarpaulin, the specialized sidewall material features internal fibers coated in liquid PVC before incorporation with the outer PVC layer, making the layers more durable and resilient than ever before.
Disclaimer: While we have tried to build our first three sizes to accommodate as many different vehicles as possible, there are many variations between Vehicle makes, model years and aftermarket bed liners. So please take the time to measure your vehicle before ordering.
How to measure for the Air-Deck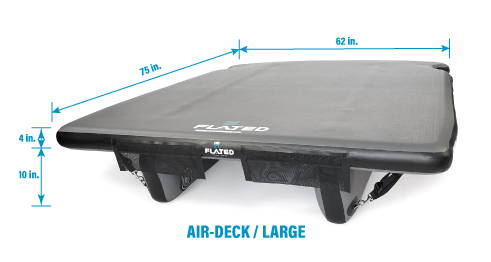 ---
---