Air-Carrier™
The Patent Pending Air-Carrier™, a cargo box that makes the most of your rooftop yet takes up the least of your closet space!
---
The Air-Carrier™ is the ideal way to maximize your gear storage and make your travel excursions much easier. The simple process to inflate and attach gets you prepared quickly with more time to enjoy the open road. Offering up to 23 cubic feet of added rooftop real estate, your vehicle is better prepared for a beach day or a full-fledged summer road trip. More interior cargo space = more friends and family to share in the adventures! Let's get real...one of the best features is the ability to easily remove, deflate, roll up and stash the Air-Carrier™ just about anywhere, including your trunk. Space efficiency, it's our motto! Maxing at 23lbs empty and inflated, the Air-Carrier™ is light enough to be a one person job. Don't have racks on your ride? Ya, we thought of that. Our integrated strap rack system allows the Air-Carrier™ to be used on nearly any vehicle.
We're outdoors lovers and have used our share of traditional, rigid rooftop boxes. In light of all the awesome benefits, they have their downfalls. We designed and built the Air-Carrier™ for ease of attachment and removal, wide open dual side access as well as reduced storage and fuel efficiency when not in use. Not only is the Air-Carrier™ duffle bag easy to transport, it can be checked as luggage for usage on destination rental cars and more. Take a look, use your imagination, order now and simplify your travel already!
Side walls made with 420D DWR treated nylon canvas
Easy open/ lockable two-way zippers on each side to easily access your belongings
Arrow-dynamic shape to help airflow and lessen the drag
Built-in webbing straps that can secure to most aftermarket or factory installed cross bars
Can be used with soft rack system if vehicle doesn't have cross bars
Storage pockets on inside of side panels.
Includes easy carry storage bag with Shoulder straps
Includes High-pressure hand pump
Durable Construction Detail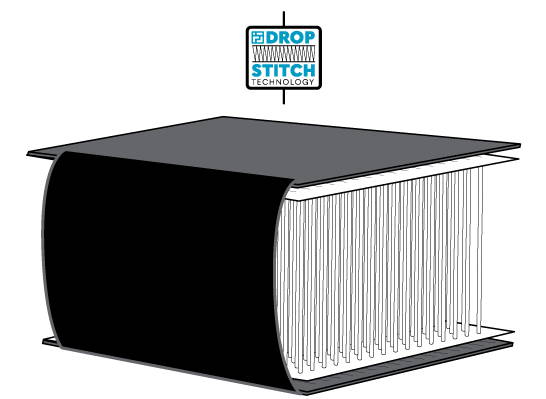 All FLATED® products are made with durable Drop-Stitch fabric which allows an inflatable product to maintain its shape when it is inflated to high pressure. Using tens of thousands tough polyester threads, Drop-Stitch fabric lets FLATED® build inflatables with flat surfaces that can be inflated to rock-hard rigidity. You get hard-shell performance along with the easy transportation and storage of an inflatable. Sidewalls use PVC layers specifically manufactured for superior air holding. Unlike typical PVC tarpaulin, the specialized sidewall material features internal fibers coated in liquid PVC before incorporation with the outer PVC layer, making the layers more durable and resilient than ever before.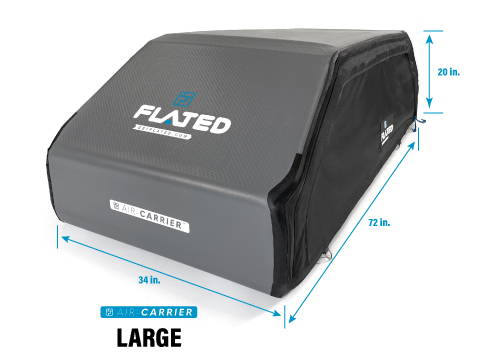 ---