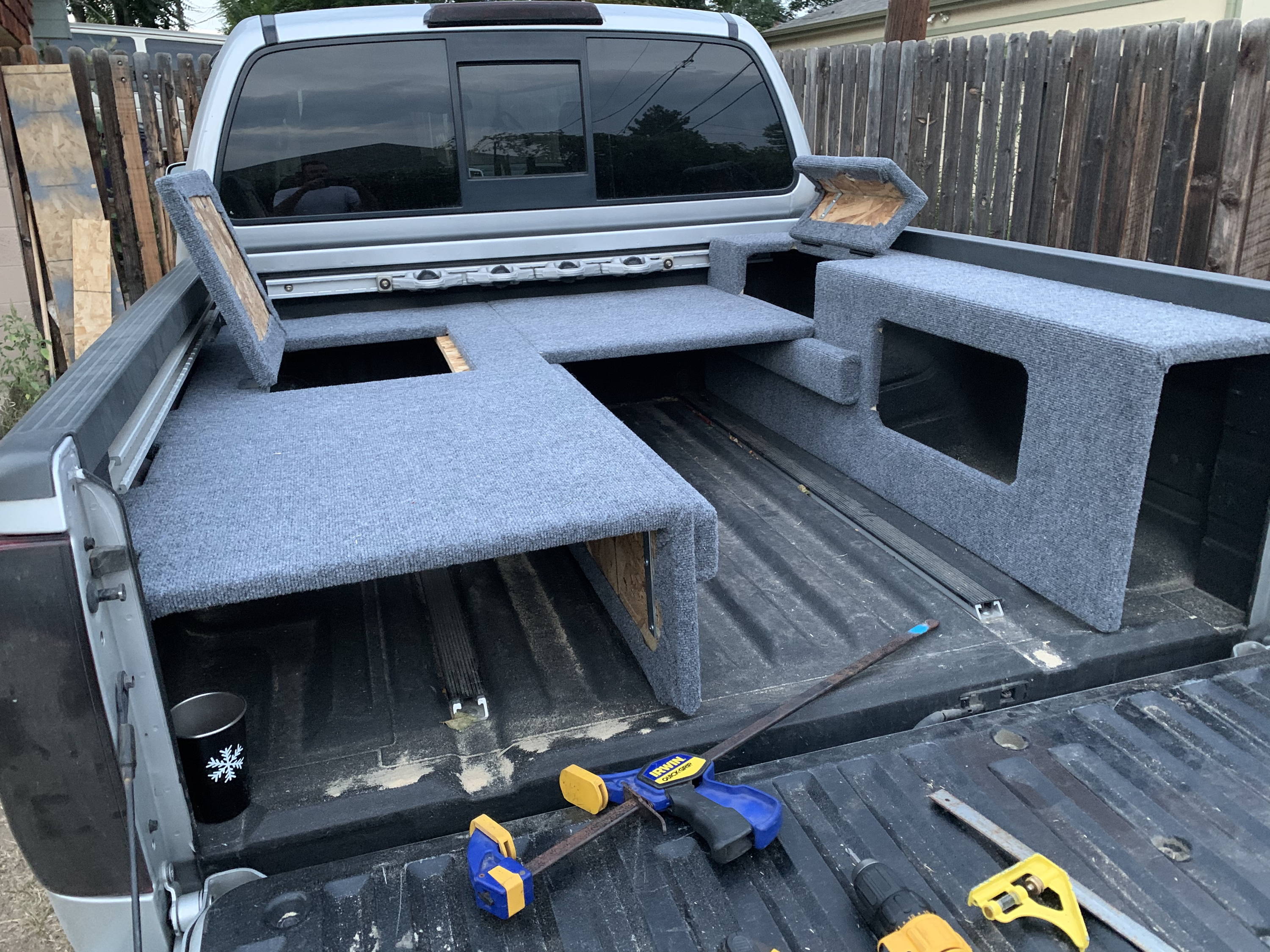 Before the term "Van Life" or Instagram ever became a thing, custom DIY truck bed inserts have been created in backyards. They were probably inspired by late 70's and early 80's custom van builds. The idea of creating more usable space in the back of a pick-up truck has been appealing to climbers, surfers, hunters, fishermen, and almost any gear-heavy sport where you can combine car camping with your favorite outdoor activities.
---
THE CHALLENGES OF A DIY TRUCK BED BUILD-OUT!
Building your own truck bed deck or raised platform can be a fun and rewarding project. These builds can be customized for any truck model with as many features as you want to build into it. DIY truck bed decks do require a certain amount of carpentry skills, a pile of tools, plus a considerable amount of man hours. The cost of lumber has also made these projects more expensive than you might assume.
One of the challenges of a custom truck bed insert is the fact that once they are installed, they typically will live in the back of that truck indefinitely. It can present a problem when you want to use your truck to go haul some dirt, help your family move something, or load up the dirt bikes. While some are built to be removed, they are always bulky, heavy and will require a space to store while not in use.
While there are tons of Youtube videos and websites that have tutorials and basic plans for custom truck bed inserts, it can be daunting to decide on a design and customize it for your truck. The weekend project often can turn into a an expensive few weeks of frustration, a few calls to your "buddy who is a carpenter" and many cases of beer to get him to come over to help.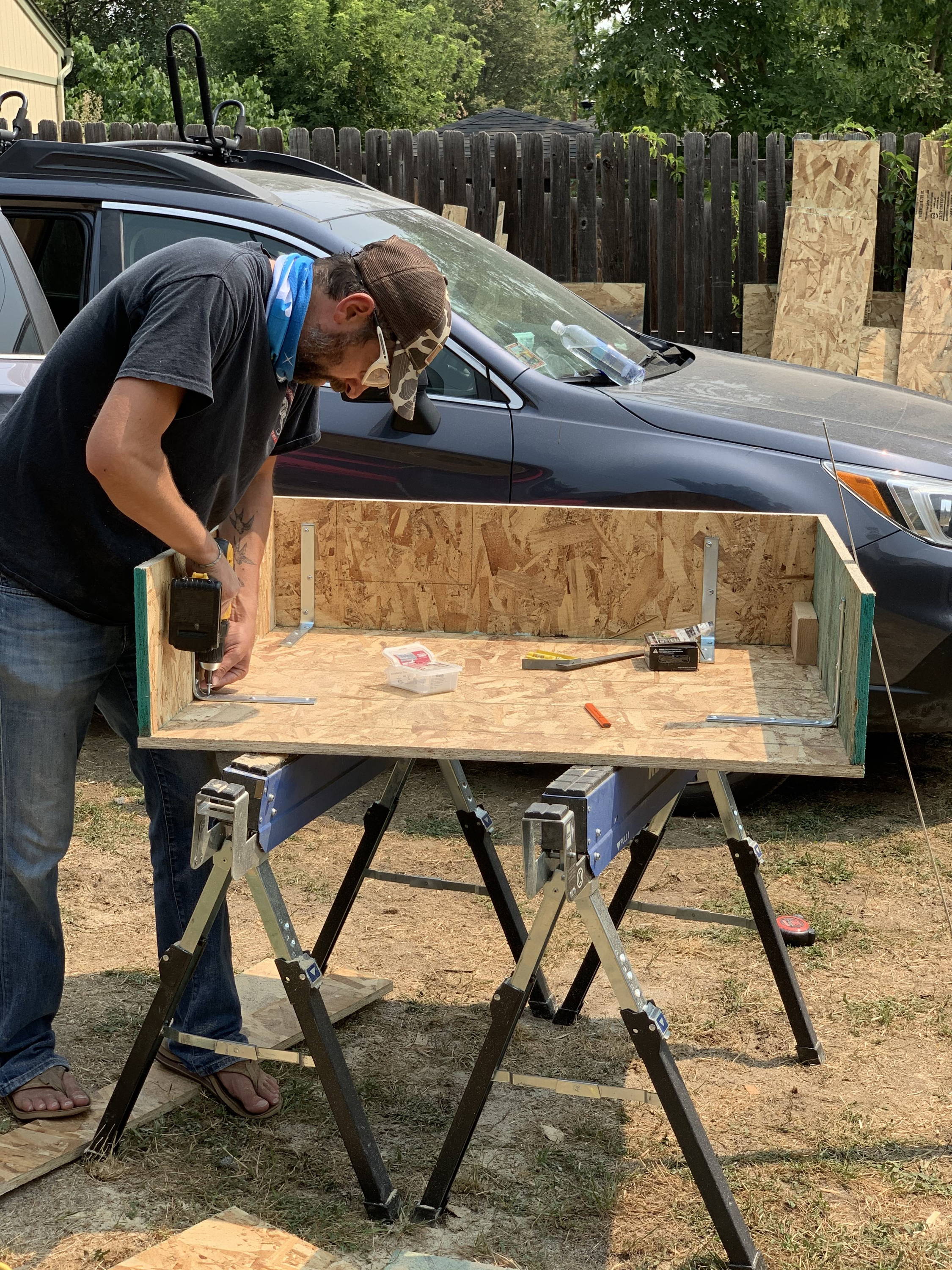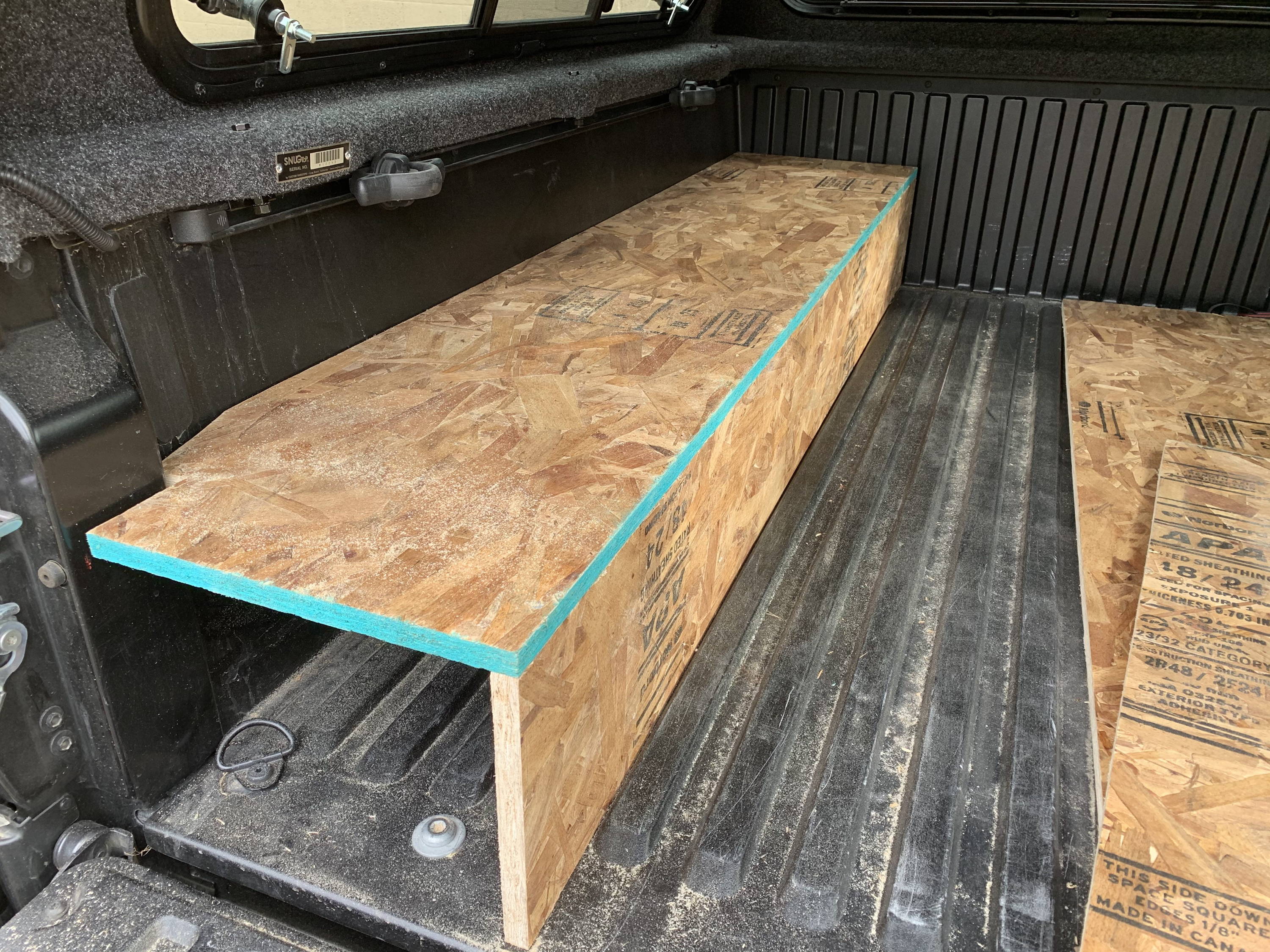 ---
THE LIGHTEST, PACKABLE, AND REMOVABLE TRUCK BED PLATFORM EVER!
---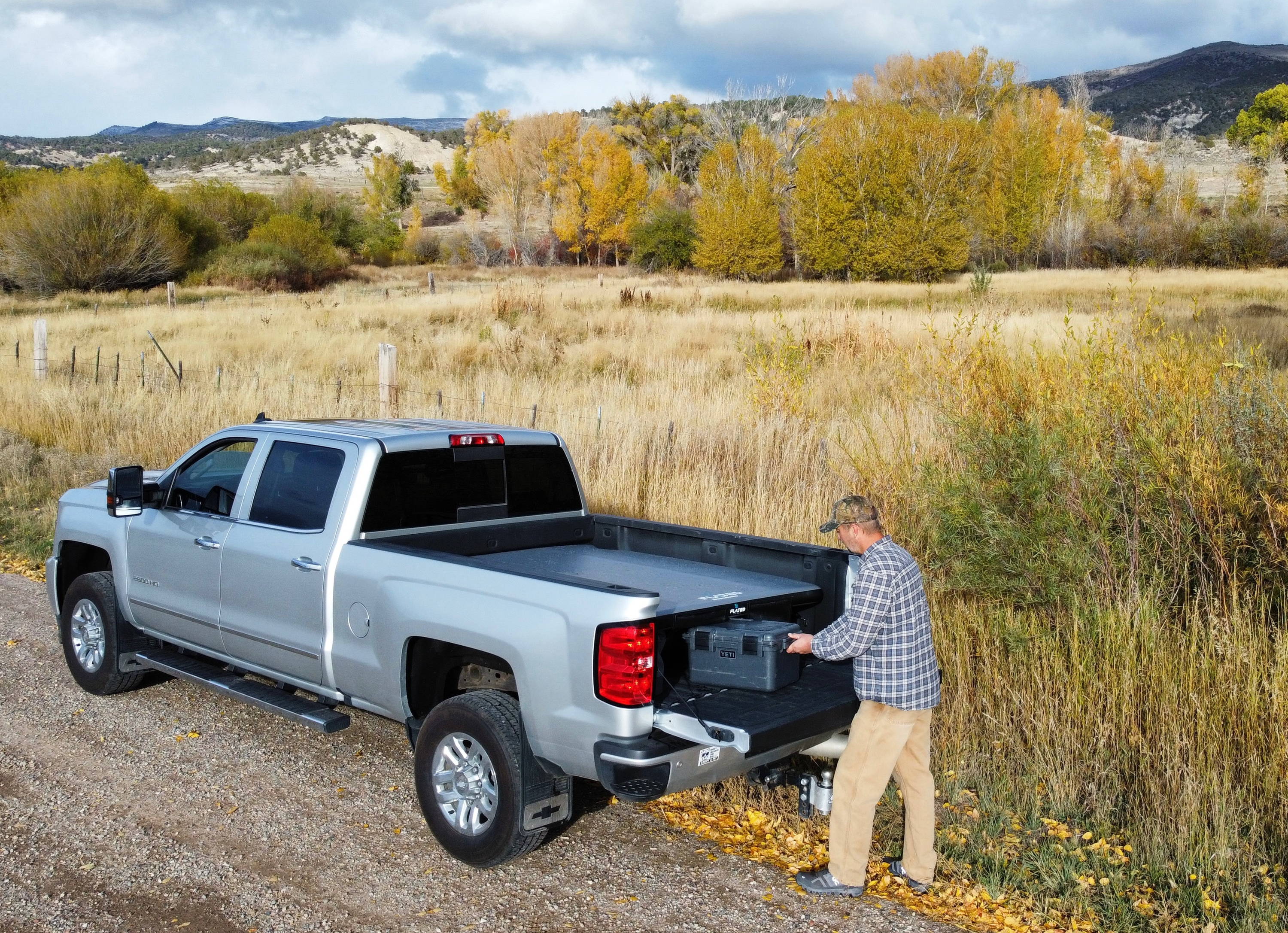 What if we could build a deck for a truck bed that could be installed in minutes, has storage underneath, and can be removed in minutes?
The lightbulb moment for the FLATED Air-Deck happened during the start of the Covid pandemic in 2020, when now FLATED CEO Ryan Guay was in his back yard, sweating in the heat, unemployed, and building a custom truck bed for a friend.
The Outdoor Industry veteran had been in the Stand Up Paddleboard industry when Inflatable SUP's burst on to the market, and immediately knew it was possible to build a ridge Inflatable truck deck out of of the same Drop-Stitch material used for Inflatable SUP's.
"I had personally experienced the problems that Inflatable SUP's solved, the technology turned what had traditionally been a giant fragile board that was also difficult to ship, use, and store into something that fit into a backpack" says Ryan. "In the early days of Inflatable SUP's everyone thought it was a gimmick. The skeptics laughed at us and called them blow-up pool toys. Now 10 years later the paddleboard industry has thrived world wide due to the advantages of Inflatable SUP's" -Ryan Guay
---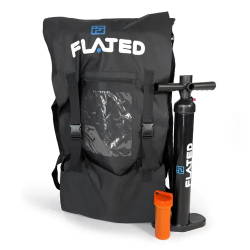 The Air-Deck deflates, rolls up, and stores in the included FLATED bag. The small storage bag means you have more room in your garage or closet. Take your Air-Deck anywhere, inflate it in seconds, and attach it to your truck bed, in your van, or in anything that you have a flat open space in.
---
All 3 sizes of the Air-Deck™ make room for your gear by maximizing the space under the raised platform and giving you the perfect surface to sleep on without having to rearrange your gear.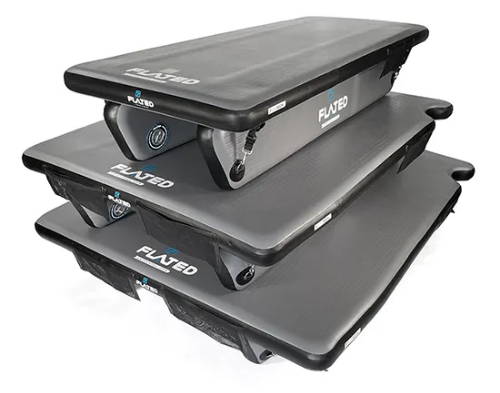 ---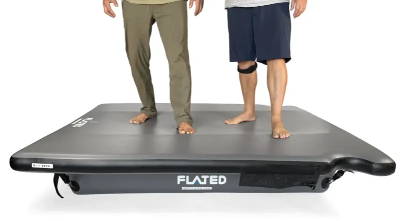 The Air-Deck™ is an innovative, raised platform that fits in trucks, sprinters, SUV's, RV's, and vans of all makes and sizes. Like all FLATED® products, the Air-Deck™ inflates, deflates, and rolls up into a duffle with ease to transform from usable to storable.
---
The four quick clips on each corner make it fast and easy to attach your Air-Deck securely to your truck bed or any tie down points in your vehicle. The mesh pockets are great to store all of your small loose items.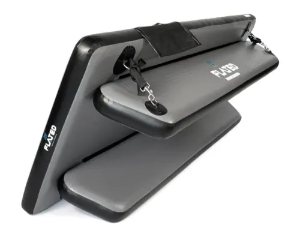 ---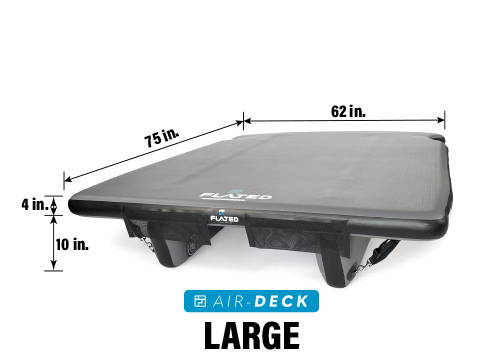 ---
The Air-Topper is a convenient truck bed shell that inflates to a ridge structure, clamps on the truck bed, and when not needed rolls into a small bag to store easily in your garage.